SUSTAINABLE DEVELOPMENT GOALS
No Poverty
End poverty in all its forms everywhere.

Zero Hunger
End hunger, achieve food security and improved nutrition, and promote sustainable agriculture.

Good Health and Well-Being
Ensure healthy lives and promote well-being for all at all ages.

To commemorate World Mental Health Day, SIBC conducted an awareness session with teacher trainee students on mental well- being. This ...
Read More
SI Bombay-Chembur in association with Chembur English High School celebrated International Day of Yoga by organising a yoga session for ...
Read More
Quality Education
Ensure inclusive and equitable quality education and promote lifelong learning opportunities for all.

On the occasion of World Literacy, SI Bombay Chembur inaugurated their Adult Literacy Drive Project named' Power of a Second ...
Read More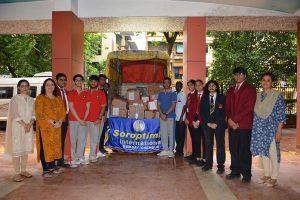 Soroptimist International - Bombay Chembur organized a collection drive during the month of April - June 2019 of used and ...
Read More
Clean Water and Sanitation
Ensure availability and sustainable management of water and sanitation for all.

Reduce Inequalities
Reduce inequality within and among countries.

Climate Action
Take urgent action to combat climate change and its impacts (taking note of agreements made by the UNFCCC forum).

Life on Land
Protect, restore and promote sustainable use of terrestrial ecosystems, sustainably manage forests, combat desertification and halt and reverse land degradation, and halt biodiversity loss.

Peace and Justice Strong Institutions
Promote peaceful and inclusive societies for sustainable development, provide access to justice for all and build effective, accountable and inclusive institutions at all levels.

Partnerships for the Goals
Strengthen the means of implementation and revitalise the global partnership for sustainable development.