International Literacy Day 2021
To celebrate International Literacy Day, Soroptimist Welfare Association (SIBC) in association with Wonder Wheel Online Store and Pillai College of Education and Research, Chembur started an online campaign where donors could donate school bags, stationery and other educational supplies for marginalized children studying in schools in Mumbai and nearby villages. The educational supplies collected were distributed to an Adivasi Zilla Parishad School in our adopted village, Warmal, Raigadh. This project was chosen to address SDG # 4 Quality education and help the children of the marginalized areas. More than 100 students benefitted from this project.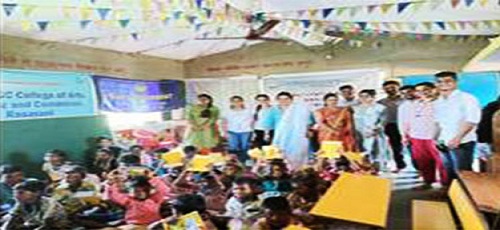 On the occasion of International Literacy Day, SIBC in association with the Social Service Committee of Pillai Institute of Management Studies and Research organized an international webinar on the theme "Literacy for all: Narrowing the Digital Divide" on 8th September, 2021. The speakers were Mr. Brian Oduti- World Literacy Foundation Ambassador and Ms. Shukla Bose – Founder & CEO of Parikrma Humanity Foundation.
SI Bombay Chembur in association with Mahatma Night Degree College of Arts & Commerce, Chembur organized a webinar on "Literacy and Human Development: A distinctive outlook in new normal" on 8th September, 2021.