International Women's Day 2022
On the occasion of International Women's Day on 8th March, 2022 focusing on SDG #5 "Gender Equality", Soroptimist Welfare Association (SIBC) and Pillai College of Education and Research Chembur, in collaboration with 'Responsible Netizen' organized an event named webinar 'Cyber Sakhi'. The session was attended by all the faculties and students of F.Y. B.Ed. and S.Y. B.Ed. The aim of this session was to spread awareness about cybercrimes and cyber security thus, helping to foster digital empowerment and creating awareness about digital safety among students. This session was conducted to create awareness about a safe cyber experience and ensure mental well-being in cyberspace and foster digital empowerment among all the college female students.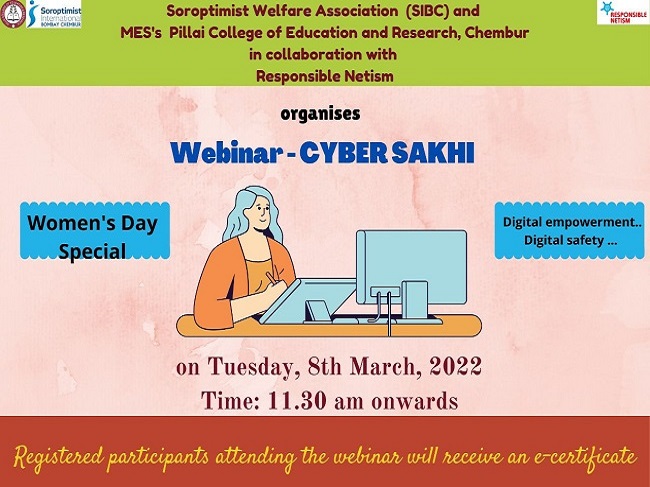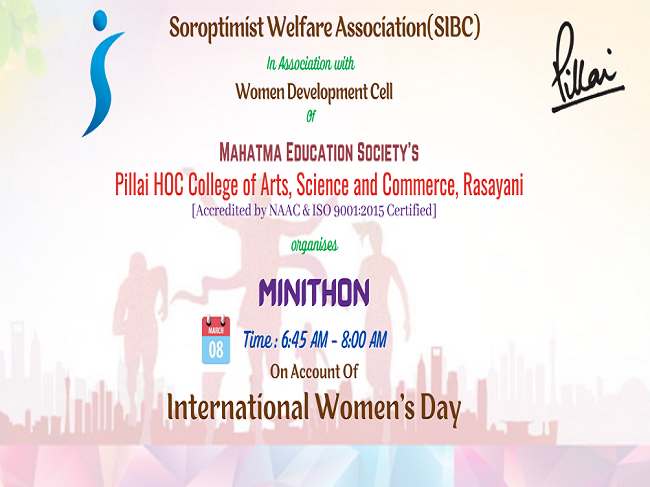 To mark International Women's Day, SIBC in association with WDC of Pillai HOC College of Arts, Science and Commerce, Rasayani organized Minithon on 8th March, 2022. The theme of the event was "Gender equality today for a sustainable tomorrow". The objective of the event was to spread awareness about the importance of fitness and fun. Running improves blood circulation and helps you de-stress. The event was flagged off by Dr. Lata Menon, Soroptimist member, and Principal, PHCASC, Rasayani. A total of 107 students participated in the event across all streams thereby making it a grand success.