Sneha – Personal Development and Pre-Vocational Skills Training for Underprivileged Girl Student Pursuing the Nurse AIDE Programme
AUGUST- NOVEMBER 2017
SI Bombay Chembur conducted Personal Development Workshops and pre-vocational skills training for underprivileged girl students enrolled in the Nurse Aide Programme conducted by Society for Nutrition, Education and Health Action (SNEHA) to educate, enable and empower them with pre-vocational skills and self-grooming to get better employment. The project aimed to work for SDG 4 providing for Quality Education.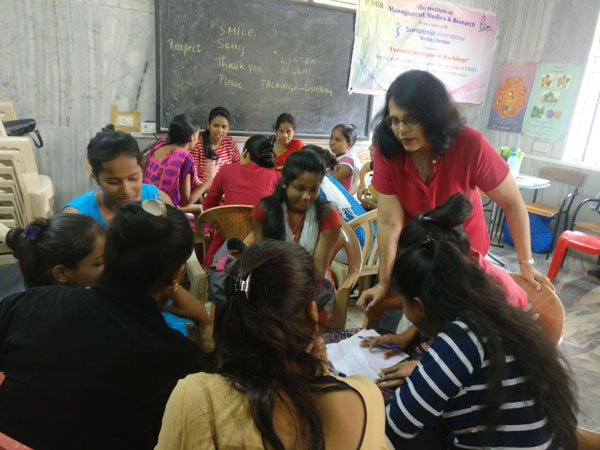 SNEHA Govandi Project
SNEHA students receiving vanity pouches from SIBC
SIBC member teaching students at SNEHA
This project was conducted for the months of August, September, October and November 2017 in association with SNEHA (Society for Nutrition, Education and Health Action) and two educational institutions of the Pillai group namely PiMSR and MNDC. SIBC members who are also faculty at the colleges and few others conducted sessions at two different centres of SNEHA at Kurla and Santacruz in Mumbai.
The beneficiaries of this project are underprivileged girls who are getting trained in specific vocational training to be nurse-aides. A vocational training without pre-vocational skills is always incomplete, as without the right attitude, time management, professionalism, it is challenging to sustain a job. Hence the need felt to equip these girls with such soft-skills so as to develop their personality and attitude to be successful and worthy nurse-aides. Each student was given vanity pouches which would help them organize and carry their professional uniform related things and tools.
The sessions, conducted at two centers of SNEHA covered Spoken English Skills, Grooming and Etiquette, Time and Stress Management, How to study How to write a CV and How to prepare for an interview. The workshop was held on two Saturdays every month and involved innovative teaching methodologies which kept participants interested all throughout the sessions. Through this project, the personality, outlook, manners and confidence of around 80 students have been transformed reflecting thorough professionalism for the world of work. Their communication skills have enhanced their approach to people and have thus improved their chances of getting good jobs and become independent. There is a total paradigm shift seen in them from being single tracked learners of nurse-aide skills to inquirers and open minded learners with balanced sensitivity essential for their field of work.