16 Days of Activism Against Gender Based Violence 2022-23
25th November to 10th December, 2022
SI Bombay Chembur observed '16 Days of Activism 2022' with several activities related to gender rights and end of violence against women.
1. Expert Talk on "Women's Rights and Laws"
SIBC in collaboration with Stree Mukti Sanghatana observed International Day of Elimination of Violence Against Women on 26th November, 2022. We organised an Expert Talk for appx. 100 B.Ed. students of PCER Chembur, on the topic, 'Women's Rights & Laws'.
The guest speaker for the event was Advocate Ujwala Kadrekar. She deliberated on the details of the provisions listed in the Domestic Violence Act, 2005 and the Protection of Children Against Sexual Offences Act, 2012. She elaborated on the four types of violence (physical, emotional, economic, sexual) and gave real-life examples of various cases of violence against women and girls.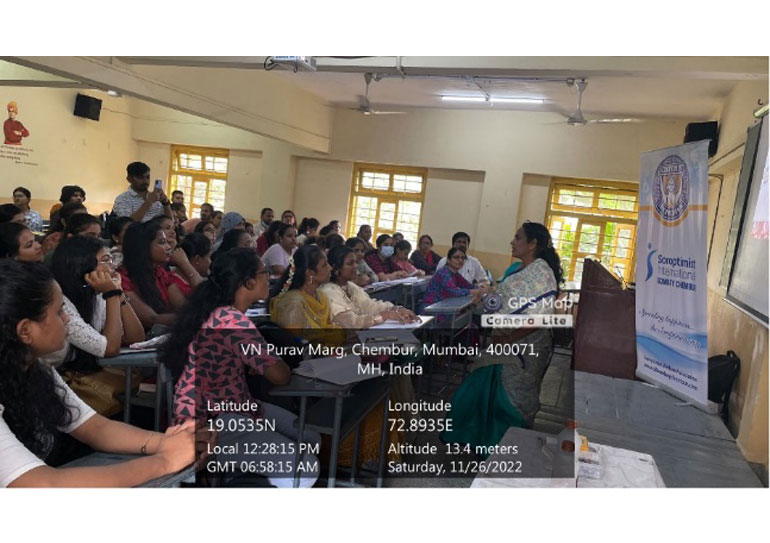 2. Project Sashakt
Soroptimist International Bombay Chembur in collaboration with Stree Mukti Sanghatana conducted a 2-day Workshop on 2nd and 3rd December 2022, for the girls of Mahatma Junior College of Education, Chembur. The workshop covered topics on rights, sexuality and gender equality. The session was well received by the 60 girl students. This programme was carried out under Project Sashakt.
3. Session on "Gender Violence" at Warmali Village
On 3rd December, 2022 SIBC members visited their adopted village, Warmali for a talk on gender violence for the village women. Biscuits, colour boxes and books were distributed to the children of the village and discussions were had with the women about the water issues of the village for addressing it soon.
4. Training and Awareness Program for Class IV Women Employees
On 5th December, 2022 SIBC organised a training and awareness program for the class IV staff of Maushis of the Dr. K. M. Vasudevan Pillai Campus, Panvel. The objective of the program was to inform the women about their rights with respect to sexual harassment at workplace and domestic violence. The session was conducted in Marathi by Dr. Karuna Malviya, an expert in criminal law and gender justice. Inspired by the passionate talk by Dr. Malviya, many women opened up and related their stories and experiences.