International Women's Day 2015-16
SIBC in association with the Pillai group of institutions celebrated International Women's Day by honoring two exemplary women with the Soroptimist Excellence Awards at Dr. K. M. Vasudevan Pillai Campus, Panvel.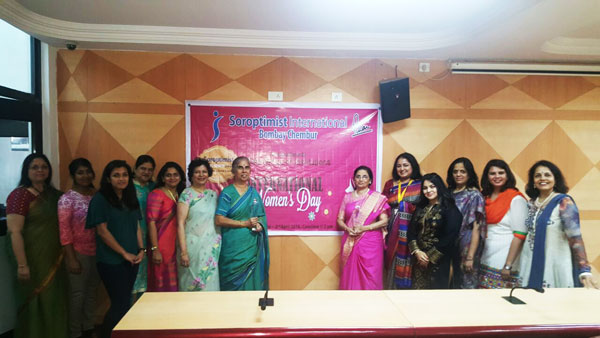 The Soroptimist Excellence Awards were initiated this year to honour women who have impacted society through their outstanding work in various sectors of industry. This award carries a citation and a trophy.
Dr. Daphne Pillai, Founder President presented the Soroptimist Excellence Awards 2016 to Dr. Armida Fernandez for her exemplary work in the health sector and Mrs. Farida Lambay for her outstanding work in the area of Education.
The program was attended by over hundred students, faculty members and Soroptimists. The programme was co-ordinated by Dr. Celina Joy and Ms. Yvette Lee.
SIBC in association with Pillai College of Education and Research celebrated International Women's Day on 8th March, 2016. The students enacted street plays at 7 different locations in Chembur namely Diamond Garden, Ambedkar Garden, Chembur Station, Chembur Post office, Opposite Swami Vivekananda School, K- Star Mall, Chembur Naka signal. The street plays highlighted the atrocities that women face today and sensitized the people on various measures that could be taken to combat this deep rooted problem. The street play further focussed on the need for women to be confident and competent to handle these situations. The need for sensitizing these issues reflects on the various social issues which engulf the women today to a large extent. The issues addressed through the street plays were sexual abuse, dowry deaths, educate the girl child, abuse at home and workplace and infant feticide.