International Women's Day 2021
International Women's Day – Women on the frontline against Covid-19- Interactive session and Short firm screening
Taking into consideration the contribution of women during COVID Pandemic and the theme of UN Women – "Women in leadership: Achieving an equal future in COVID-19 world", Soroptimist Welfare Association (SIBC) in collaboration with Women Development Cell (WDC) and Internal Quality Assurance Cell (IQAC) of Pillai HOC College of Arts, Science & Commerce, Rasayani, jointly organized a Panel Discussion and Short Film Screening on 8th March, 2021, on account of International Women's Day – Women on the frontline against Covid-19.
A panel discussion was conducted with women who are still on essential duties to cope with the COVID pandemic situation. The speakers for the event were Dr. Deepali Jadhav, BHMS, Ms. Rouble Negi, Social Activist- Founder of Rouble Nagi Art Foundation, and Ms. Sonali Tukaram Kadam, Sub-divisional Officer – Alibaug, Raigad.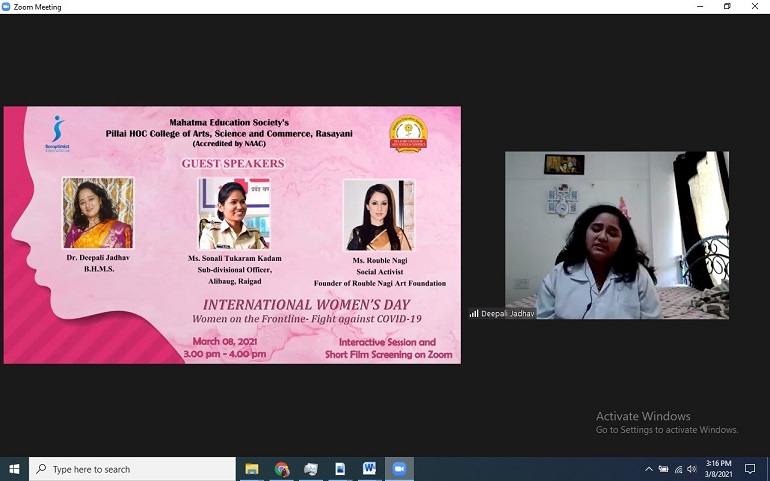 After the interaction session, a 16 min feature short film created by the students was screened to pay tribute to all the women who played an essential role in the COVID situation.
After both the sessions, few Soroptimist International members from Greater London and Plymouth, friendship Link of SIBC, spoke a few words of gratitude for inviting them to the event and also shared their experiences with the other members. A total of 140 participants attended the session.
The event focused on SDG #5, "Gender Equality" and SDG #3, "Good Health and Well-being."